I'm back…after a long unexpected break. My computer crashed. HUGE bummer, and I hadn't backed up anything in a while (lesson learned), but luckily was able to retrieve some important documents, and thankfully kept copies of all of our treasured pictures on our SD Cards and also online (I have a Shutterfly account, and the app on my computer and phone to upload copies of all my fav pictures directly, which saves a lot of time!).
I opted to order a new laptop from Costco.com, as the prices were unbeatable, but little did I know it would take 3 full weeks to get it delivered! However, there are some really neat discoveries that came out of waiting for a new computer:
1. I had forgotten how much I missed reading for pleasure!
2. Not being on my laptop in the evenings (I also run a small business), "guilted"  the hubby to keep his work computer packed away in the evenings, and we enjoyed uninterrupted conversations, and even got some movie-watching in! Amazing.
3. I learned that you can actually do quite a lot from your smart phone or tablet (okay, maybe not such a "healthy-balance" type lesson I was going for, but seriously–there are some cool programs out there, and many sites have really advanced mobile-versions!).
4.  Sometimes being forced to slow down, take a step back and really evaluate priorities, the direction we are headed, goals, and the necessary vs. the "usual" tasks, and even taking time to celebrate achievements or milestones, is REALLY therapeutic. Plus, it gives you time to evaluate what can be cut out, or how you can become more efficient, so you have time for the most important things in life!
5. My hand-written paper systems actually serve me pretty darn well! I keep a notebook with me for scheduling time blocks throughout the day, keeping track of important to-do's, and making sure I carve in "me time" so I stay centered, refreshed, and have love and energy left to offer my family.
Notebooks/Organizers I love:
The Mead "OrganizHER" (available at Target)
Meet the next best thing to a personal assistant. Inside this memo book you will find answers to everything from, "what's for dinner?" to "what's our budget?" Scheduling, Organizing, Expense Tracking, and Meal Planning are all tabbed sections, each one specifically designed for a life in constant motion.
Magnetic Days of the Week Notepad (Etsy, or dollar section at Target!)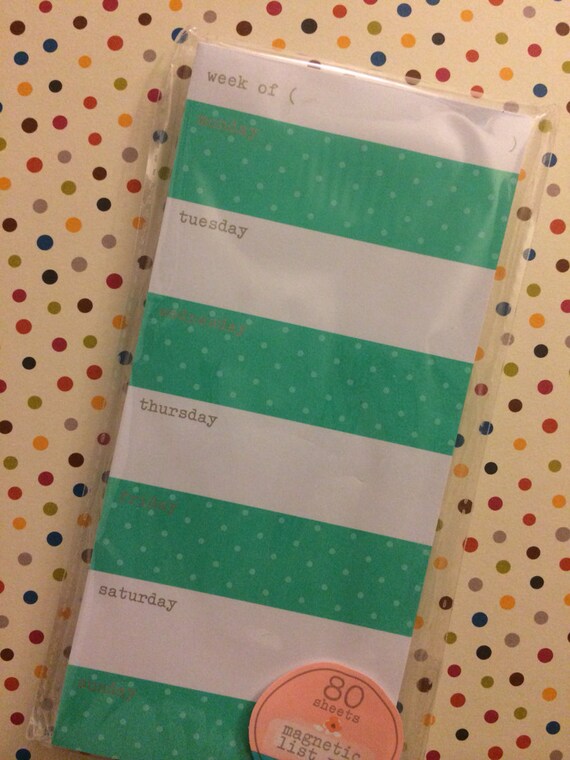 Use it for Meal Planning so those groceries in the fridge don't go bad as you wonder what the heck you will cook for dinner. I also use ours to list Larger Activities/Events for each day that week, therefore I know which days I might be able to fold in errands, or a get-together, etc. Having a "picture" of our week helps us stay on top of things and not fill up the days too much.
MeadCambridge Limited Action Planner Business Notebook 
Perfect for larger Project planning. List your Project title at the top, and then related to-do's underneath. Keeps things really organized and easy-to-follow.
Daytimer Family Plus Planner (found at Target)
Includes a Monthly Goal-Setting Section, areas for individual family member schedules, Meal Planning, and lots of space for notes.
What are your favorite Paper Systems or Products to keep organized? Leave a comment or email me! MakeSimpleHappen at (@) gmail dot (.) com.